The story of before by Susan Stairs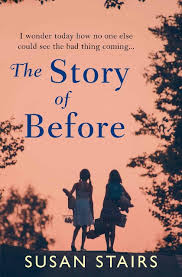 This novel is narrated in the first person of a nine year old girl called Ruth Lamb. The story tells about how the family change when they move to a housing estate in Dublin back in the 1970s. Susan tells us about life in Dublin as if we were there.
The story is a dark one. Ruth announces that a very bad thing is going to happen that year and this sets the action up well. The grimness of the theme does not let up. The story gives us a piece of history in a non sentimental way, while keeping the action trickling in. We become very involved with the setting and the characters as we remember the way it was when life was without restrictions.
This is not merely a nostalgic tale of how life was for children in the past in Dublin. This is a story about a little girl who feels excluded from her family, friends and the estate she lives on. This story is her story and Stairs writes this tale with exceptional ease. The story flows well, building up with each chapter to the awful ending that Ruth predicted at the beginning of her story.
The themes of the book are ones of fate and choice. About what can happen if a person takes one choice in their life and how that can impact on your life forever. It tells of the secret world of adults and children and what can go wrong when things become confused. It is a wonderfully evocative book with a beautiful dusting of magic brushed through each page. I am looking forward to Susan's next book which I have heard she is working on.
You can purchase this book directly at Atlantic Books or in most excellent bookshops. Susan is launching this book this Wednesday, 5th June in Dubray Books on Grafton Street at 6:30. Get your copy, it is well worth a read.
Susan is also reading at Bantry Literary Festival on Friday, 12th July at 11:15. All information here.