I have been absent for a while. No apologies given. We had our first baby, a boy, 3 weeks ago and the only reading I have been doing since then is Annabel Karmen's Essential Guide to the First year of a baby and the text replies from my fellow Mum friends!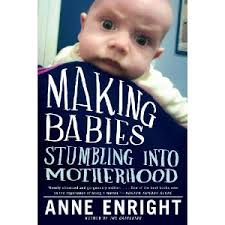 I read an excellent book by Anne Enright before baby boy arrived. It is called "Making Babies" and is written in typical Anne enright fashion, quirky and country cool. Other books I have been reading are what we might call "light" for example Tana French's new crime novel "The Secret Place" I love Tana French and always devour her latest books, though not considered literary, I am sure by some harsh critics, her books are written in an intelligent language. She captures Ireland perfectly and scares the hell out of me with what goes on in the pages!
I'll be back very soon, but am enjoying my little one too much. rozz.ie has been short listed for Best Mobile Compatible Blog at the upcoming Blog Awards Ireland and it is an event I hope to attend, with my little tucked away with a caring family member in the hotel! If I can drag myself away from him!
Keep in touch!