Gosh, I kind of find these posts odd and ego-ridden and cringey to read so here goes….
One of my stories has been shortlisted for the Over the Edge New Writer of the Year award 2016, got the news this morning via an excited husband holding a mobile screen in my face! It was a lovely way to be woken up and then a coffee and then a coffee and pretzel chocolate thing in Costa with my lovely M-boy.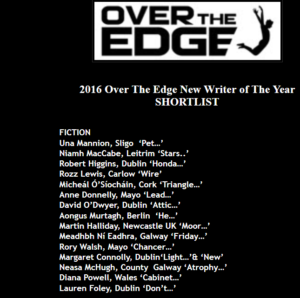 I have been working on this story for over two years and the first draft of the story has morphed into an entirely different one. Even the title has changed! I have been writing for quite some time and only feel that this story and others I have written recently have started to show me as a person, writer etc and how I think other people might think about the world. I am proud of this story because of those things. It is me and what I like to read and it just makes me feel all delighted to see that someone else might think it is okay too.
I would love to be at the fiction slam in Galway in October but we are booked to go away to Munich and Salzburg to see my most loved cousin, Trina and her lovely, Australian husband.
Life is good. Back to the work.
Was this odd, ego-ridden and cringey? Comments below, please. Send good thoughts. x