Last night the Over the Edge New Irish Writer 2016 fiction award winner was announced and sadly it was not me but I really didn't expect it when I saw that Chris Connolly had been shortlisted as he seems to have won every award going in the last year!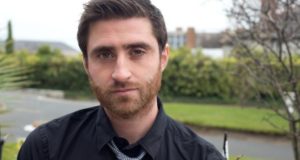 He won the RTE Francis McManus award this year too with a deeply affecting short story called The Speed of Light and How It Cannot Help Us. It is beautifully read here on the RTE Francis McManus award page. Have a listen, it will grab you and it finishes it a very chilling way that I still think about.
Doire Press are reading Chris' stories as part of the prize and I am sure Chris' collection will be published by a company very soon!
I will be posting a second post shortly about my own entry and the work, hours and tears and re-edits it has taken to get one of my stories to this stage! Am tired thinking about it!
😉