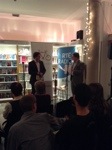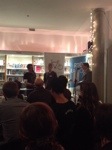 Last night I attended the launch of New Planet Cabaret anthology edited by Dave Lordan in the Gutter Bookshop in Templebar. We ran about two minutes late and managed to grab a fizzy drink and even got a seat. Rather jammy. Simon, my favourite husband had one of his stories published in the anthology so there was much excitement.
Dave Lordan opened the evening with a funky performance alongside Karl Parkinson and Sean Rocks, RTE Radio One hosted the event and made us cheer and clap at the correct times, which was only when the ads were coming on.
Eoin Purcell, editor of New Island Publishing also spoke and I was annoyed that I didn't get a chance to say hello to him as he looked very pleasant and happy indeed. Dave was in flying form, I don't think he does bad moods and was sporting a beginnings of November tache, which I don't like on men. Sorry, Dave.
The anthology is an impressive and ambitious projects. All proceeds go to Writers in Schools and obviously I think this is the most worthiest of charities! It contains over forty pieces, all unique and tempting as they come under 700 words each. It features well known writers like Nuala Ni Chonchuir alongside emerging writers like Karl Parkinson, Kerrie O Brien, Michael Naghten Shanks and EM Reapy.
We had a taste of what the book is about with 10 performers getting up to jam on the mike. Colm Keegan made the evening with his flash piece called Shush. I love his accent and I loved his performance, he was my favourite on the night. I shouldn't have favorites but there you go.
Dave Lordan does inclusive and encouragement very well. All great traits of a teacher and I love his openness of the arts to all.
When, it was over, we headed to the Czech Inn and after a couple of cidonas and smokey bacon crisps, Rozzie and Simon were ready to sleep.
The Gutter Bookshop and New Island Publishing will have copies available for purchase at 16.95. A brilliant stocking filler for the occasional or reading obsessed fan. The short pieces give the collection an energy and Dave's openness in the submission process has brought forward many future talents. I hope he can run more creative writing courses like this in the future.