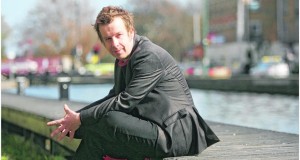 IMPAC award
The good news and awards just don't stop for Kevin Barry. He has been on a roll for a constant.
His novel City of Bohane been shortlisted for the International Impac Dublin Literary Award. The shortlist of 10 writers for the €100,000 prize was announced yesterday.
I've blogged about this brilliantly quirky, Kevin Barry style, inventive, entertaining and swaggerish novel before. I'm not even sure if swaggerish is a word but it fits. If you haven't read City of Bohane, then there's nothing like a deadline. The winner will be announced this summer so plenty time for you to show how hip and happening you are. And I know how hip and happening you are. And I knew how much you'd want me to gently motivate you.
This is a really important award for a full-time writer like Kevin, obviously on a merit basis, we want him to win it. But, he is the only Irish writer in the short list but the biggest thing is the prize money-€100,000 would set him for a couple of years and free him up to write more for me…Sorry, the general public. If there were a public vote, I'd be lobbying but there isn't but what you can do is
Get the book, like now, here.
(and while, you are there, get his two short story collections too, Dark lies the island here and There are little kingdoms here