This is our fourth year attending the festival and 2015 was very much the same as every other year, which is lovely and pleasant, by the way!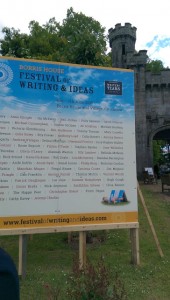 I only booked for one show, the Kevin Barry and Tommy Tiernan interview. It was billed as a rambling of sorts and I do not enjoy the ramblings of Tommy Tiernan and I could not imagine Kevin rambling. I was afraid it would not work and make poor Kevin all embarrassed and stuff. I was afraid Tommy would "diss" Kevin and make the hour all about him and his "comedic" episodes.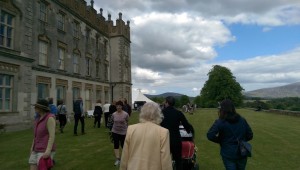 It actually worked, although the first few minutes were tense as Tommy, indeed, did try to slag Kevin but Kevin did not allow himself to get involved in the stereotypical slagging of literary folk and events. Kevin was funnier than Tommy yet Tommy was very funny too. They had a natural chemistry and it left me thinking that perhaps Tommy Tiernan should be writing short stories too!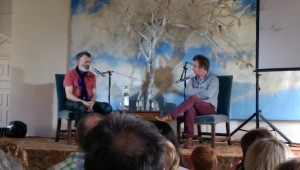 After this, Kevin read from his upcoming, new novel Beatlebone, due this Autumn. I am going to be honest. I was not hooked with what I heard but I will buy and read, of course and have no doubt it will be excellent and brilliant.
The book tent was full of many delectable books, I bought the new books by Anne Enright, The Green Road, and Belinda Mc Keon, Tender. Tender is, so far, very interesting and I will be posting my thoughts on it soon.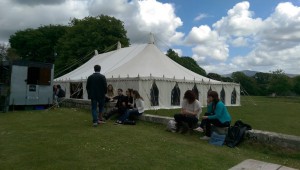 We brought a picnic with far too much food, we also enjoyed the excellent organic coffee there, with garlic and cheese home fries, which were most yum.
Things are different now, before we had Emrys, we would go all weekend and lounge about from morning to night, reading, writing, chatting and eating. This time, Borris was shorter but as lovely with our baby boy. He enjoyed crawling on the pebbles and trying to eat them. We will allow him to go again next year so.