I am ultra excited, man.
I love Dubliners. We all do. Studied in uni and loved ever since. Tramp Press and Commissioning Editor, Thomas Morris(he is Stinging Fly's new fiction editor) are publishing a reinterpretation of James Joyce's short story collection on the 5th June at the bargain price of €15.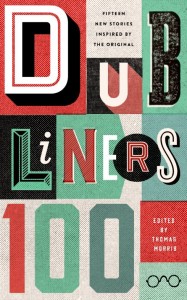 They have also got some pretty funky and cool writers on board. So far, on that list are Donal Ryan, John Boyne, Eimear Mc Bride and Paul Murray. To make things even more brilliant, these writers will be in conversation with Thomas Morris down at my(I am claiming this festival as I practically live next door to Borris House. Almost) Festival of Writing and Ideas in Borris House on Sunday, 15th June. The Festival runs on 14th and the 15th of June and so far, the lineup is kicking the other two "biggest and bestest" literary festivals in Ireland.
I am saying no more other than buy the book and go to Borris.
Eveline, Donal Ryan's clever reversal of Joyce's original tale, will be published in The Irish Times on Saturday, June 7th.
Dubliners 100 will be published by Tramp Press on June 5th, priced €15.