Counterparts,  short story by James Joyce.
This is the most depressing story and most despicable of characters in Dubliners. Farrington is an office clerk who is an angry man. Terribly angry at everyone and everything. His job is hateful and he is bullied by his boss. His friends fleece him for money that he pawns for his watch and his wife bullies him when he is sober and he bullies her when he is drunk.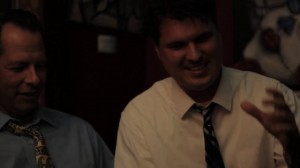 We see the full of the city in this story, with Farrington going on an angry and pointless journey from work to pub to home. He realizes he is in a bad situation but has no solution to what he might do. He doesn't even realize the extent of his problems are of his own making.
I hate reading the ending of this story, it is a violent and awful one. We can only imagine that the next day for Farrington nuns his family and friends and workmates will be the same. The theme of routine plays strongly in this story. An aggressive routine that most Dubliners go under, Joyce comments.
I've read a couple of reviews on the Belinda Mc Keon's take on this story. I really do like her style and energy so I am looking forward to getting stuck into her version of this hideous tale.
Counterparts is a short story published in the collection, Dubliners by James Joyce.