I enter lots of competitions and finally, I won! I had to describe what a short story was in a simple sentence and post it on Dan Powell's blog. I won a lovely magazine called Carve. This is an American glossy and beautiful magazine that focuses purely on the short story. You get the title now!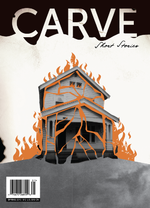 Not only does it feature 3 pretty awesome stories each issue, it also has unique and helpful features for short story writers. Some of these features are:
What we talk about: Very informative chats with the author who wrote the story that is published in that very issue. You read the story first and then read about its themes and how it was made. The best thing that comes before this story each time is the Fast Facts feature. You can see how many drafts this story took, how long it took to write, how many times it was rejected(Ouch) and how long the writer waited until it was published. These are usually things we don't talk about and these sort of facts really can boost a writer.
The Reject! feature where stories that Carve  passed on but were later published elsewhere are highlighted. There is an conversation with a featured writer about what that rejection meant for them. The Editor from Carve  that rejected it gives their comment, the author gives their feelings to that rejection and goes through any changes they made because of that rejection. A wonderful piece of learning through rejection and very noble of Carve magazine, if I may say so.
The Carve magazine is special and I am going to subscribe straightaway. If you don't want to subscribe for the print/digital issue, you can read the 3 chosen stories each time on their blog for free price!
Dan Powell won the Esoteric Award for his story Storm in a teacup, which is a magical and very British story about falling in and out of love and life while a storm brews in a teacup! It is very much worth a read and so is his interview but you will have to subscribe for that! Check out Dan on his blog  and his award winning story Storm in a Teacup here.