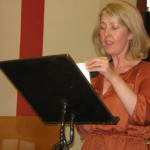 Carlow Writers' Co-operative group is based in the town of Carlow. We meet every 2 weeks in the Teach Dolmen, in a very atmospheric bar upstairs. We all bring a piece or two of work with a copy for each member to read along. Afterwards, feedback is encouraged and we have some lively but helpful debates!

We take a break from the meetings over the summer months and this year we culminated the writing year with a reading of our work for the Eigse Arts Festival. Carlow County Libraries had approached us and asked us to work with a scriptwriter, Ken Bourke. We met him each week for 6 weeks and he stimulated us to write about objects like metal, fire and water. Towards the end, we began to prepare for the reading. Most of the writing group had not read their work in public but each and everyone did a fabulous job! On the night, we had a wine reception and a visit from the local paper's journalist.

I've put together a couple of tips for those of you who want to try this in their own writing group. i hope they help you and make you read and write the best you can!
Perform-

A reading is a performance, so to speak. Remember, your audience are using their auditory learning style now so vary your tone and pace.

Practice

-practice reading your piece in front of a mirror and with a live person.

Prepare-

visit the venue beforehand, checking for sound and how it will carry to the back of the room. We made sure that the writing group were all interspersed throughout the audience. We were very fortunate that we had a full food buffet and wine, tea, etc. even a mug of tea and chocolate digestives are a treat to you and the audience.

Dress

-A gentle reminder to each of the writing group reminded us that this was a professional and important event. The audience deserve the best and most attractive reader! Make an effort, dress up and glitz up!

Programme

-It's a good idea to write a simple letter and list of readers taking part. This gives the audience something to focus on as it's hard to listen for an hour! Make sure you mention your sponsors!

Introductions and breaks

-Have a couple of lines to introduce your piece/s. Don't just launch into them as the audience will have no context. If you are reading 2 or more pieces, stop for a few seconds to signify the end of the first piece.Then, introduce the next piece.

Applause!

Wait for applause. Some of the audience started clapping after one of our writer's first story, which was unexpected! Take it in and enjoy it!

Look up and smile

-Look up at your audience at various points throughout the reading. Connect with them, this will keep their attention.

Facilitator-

Try to get someone to open up the evening, we had the Head librarian introduce us and Ken introduced each of the writers in between. This makes it really professional and keeps your audience focussed.

Your writing

-This is the most important thing, in my opinion. Make sure your writing has been checked and edited. You want to read and look the best you can but you also want to write the best piece you can. That is the aim of the reading. Get your best stuff out there!
I felt very down after my reading was over. It had been such a great experience to be involved in and I felt proud of all of us for reading our most personal creative writing. So, we are aiming for another reading and anthology next year! We will possibly learn more the next time. I'd love to hear from you if you have given a reading and have some tips to share.
(This article was published on writing.ie and you can find it here.
Rozz Lewis