The general public was invited into the Carlow Arts Festival Offices yesterday for a chat, tea, food etc. There were lots of people with lots of things to say!
Cornelia Mc Carthy, the Chair of the Board of the Festival facilitated a lively and encouraging debate on where the Festival needs to improve. As with all open forums, things can get bogged down in what needs to improve and I hope the Board can remember the positive things that were said as well.
I am very much looking forward to helping, discussing and attending the 2016 Carlow Arts Festival. You should too.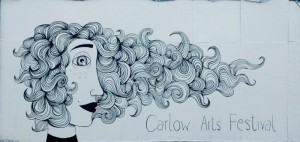 The mission statement of the festival is that:
 aspires to foster culture in all its forms and to promote the growth of visual art, drama, entertainment, literature, music and dance and to advance education in the arts; to reimagine a Carlow which appeals to domestic and international cultural visitors, to offer a diverse range of artistic experiences and activities in both town and county, and to produce work that is not replicated elsewhere.
I am focussing on the words culture in all forms, advance education in the arts, reimagine Carlow, domestic and international cultural visitors, diverse range of experiences& activities in the town and the country and without replication elsewhere.
These are HUGE aims! We need to keep these in mind so much so that they should be printed out at the front of the office and left there as a reminder for all of what the festival aspires to.