Barracuda by Christos Tsiolkas – review
The Slap was Christos Tsiolkas first big novel. I think everyone read it. Even Simon, poetry lover read it. And we liked it, didn't we? Despite hating all and each one of the characters in it!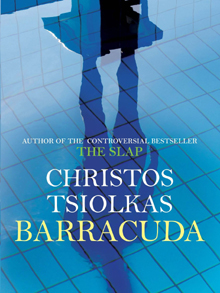 Barracuda is Christos Tsiolkas second offering after The Slap and it's his fifth. It's a chunky book which I finished rather quickly for a book of its size. In fact, I devoured it despite having no interest in swimming, which is the main activity within in.
Daniel Kelly is the main character, he is pretty, pretty brilliant at swimming and he wins a scholarship at a very posh, boarding school to be trained by an Olympic coach. Sounds good but it isn't. Daniel is not like the rest of the boys, he is from a very working-class family and he is hugely confused and ashamed of his own sexuality and class. We know at the start of the novel that he has spent time in prison for doing something awful. We also know that he has never reached the heights of competitive swimming as he should have. I don't think that will affect the story.
This is where the novel is more than a simple narrative. Daniel is a confused fallen man. He finds a redemption in reading when he spends time in prison and the novel is littered with reference to old classics. Daniel is aggressive in his exercise, persual of identity and his sexual encounters with other men.
His story is told in a unique way. Each chapter flits between Daniel in Glasgow and Daniel in Australia, going back and forth in time and taking on different character's viewpoints along the way. This sounds like it would confuse the reader but it never did once. I loved the ending, a sad ending but apt and stems from a highly tense but wonderfully dramatic scene where father and son face off and Daniel learns some final truths.
This story starts off with an urge to beat everyone and everything around the protagonist. To prove himself, Daniel feels he needs to rid himself of everything that is him, his family, his upbringing, his class and his identity. What he does learn in the end is that loving himself and accepting himself are the best prizes. Hard won though. I highly recommend this even if you didn't take to "The Slap".