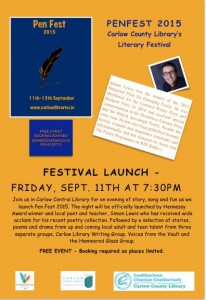 Another brilliant weekend for new and emerging writers in Carlow Library, all set up by John Shorthall, Librarian.
The launch was on Friday night, Simon Lewis, my husband opened the festival with some reasonable, modest and motivating tips on writing. He was followed by the newest creative writing group in Carlow and a group of young adult that John worked with over the last few months. I taught some of these YAs a year ago and they have really developed as young writers. Very proud!
Elizabeth Reapy (former editor of excellent litmag, Wordlegs) was teaching a class on writing with the young adults on the Saturday so we had the chance to catch up for a lunch date. Elizabeth is forging away at her own writing career as a novelist and working in the Salmon Poetry publishing company in Clare. Always good to hear that good people and good writers are getting on well! She is also a fellow Mayo woman so I like her even more!
Sunday was a 2 hour "chat" with Lisa Frank and John Walsh(Doire Press), John MacKenna and Paul O' Reilly(both with new collections published with Doire). Really honest and interesting debate and tips. It was lovely to speak properly with John, Paul and Lisa. Lisa is great, mostly because we share the same sort of tastes in short stories!
I am officially tired and my day job starts back tomorrow, teaching!