I am re-reading this amazing book. I started ages ago and forgot and then saw this brand-new 30th anniversary edition in the library so it was  sure sign!
Natalie is well-known for her books on writing, she writes so gently, spiritually about writing and the process.She really does free up your negative thoughts about the writer that you are.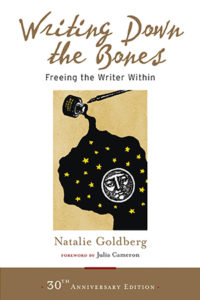 I am adding her list of topics to write about to the resource section. She recommends that you fill a notebook every month with writing, any writing to flex your muscles of writing! Then, write daily, set a clock for 5 minutes and write about anything, or her list or start to develop your own list. We have heard this advice over and over so now take heed!
Enjoy.
Rozz